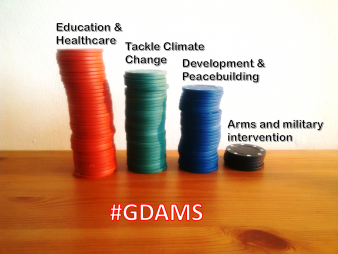 The United Kingdom is now the fifth highest military spender in the world with an annual budget of £46 billion.  How would YOU allocate this money to make the world a safer place?  Take part in our on-line survey and share the link with others
These are the results from 2016.
1,024 people voted, online and in person, dividing four tokens between the different spending options. Adding up everyone's spending preferences, most people felt arms and military intervention receive too much money.
Results
| | | | |
| --- | --- | --- | --- |
| EDUCATION & HEALTHCARE | TACKLE CLIMATE CHANGE | INTERNATIONAL COOPERATION | ARMS & MILITARY INTERVENTION |
| 1406 | 1194 | 1033 | 199 |
Take Action
Think the government has its spending priorities wrong? Let them know!
Arms to renewables
What if the United Kingdom took real action to tackle the biggest threat we face: climate change? Shift  arms to renewables. Take Action with Campaign Against the Arms Trade.
Stop Arms to Saudi Arabia
The UK has continued to support Saudi air strikes in Yemen and provide arms despite overwhelming evidence of repeated breaches of international humanitarian law. Stop Arms to Saudi Arabia
Stop Trident
The United Kingdom government is cutting billions from public spending on health care, education, welfare and services. Yet at the same time it is spending billions every year on nuclear weapons and plans to spend over £100 billion on a replacement for the Trident nuclear weapons system. Sign the petition from the Campaign for Nuclear Disarmament.
Do you work with young people?
Find out how they would vote with these education resources.