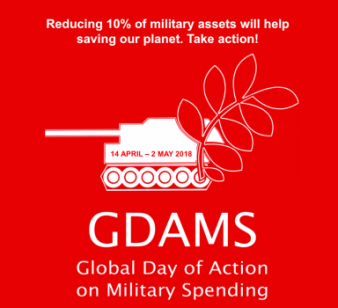 Reducing 10% of military assets will help saving our planet.
From GCOMS 2018 International Statement : The world is over-armed and peace is under-funded. This claim is now more valid than ever. One of the most urgent tasks of all nations during the next years is to reduce military expenditure.  The world is becoming crazy. Military spending in 2016 amounted to $1.68 trillion. Many governments are planning increases in military budgets together with cuts in health, education and development cooperation. The news on military budget increase proposals in the U.S. is alarming: the Congress recently approved a $165 billion increase in military spending over a two year period. Meanwhile, many other states like Australia, New Zealand, France, UK, Germany, Cameroon, Kenya, Nigeria, Spain, Italy and others are following U.S. guidelines without any discussion…
Internationally, GCOMS will be marked between 14 April and 3 May.  U.S. Tax Day (April 17, 2018) and the publication date of the annual SIPRI report on military spending.