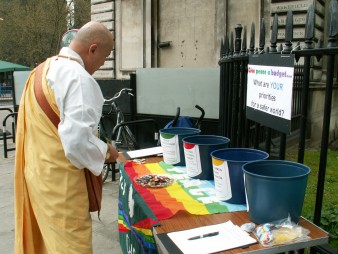 Spending on health and education at home and overseas came out top of the list in the street survey conducted by Pax Christi and the Quakers today as part of the Global Day of Action on Military Spending (GDAMS).
On the day when the Stockholm International Peace Research Institute (SIPRI) announced that in 2014 Global Military Spending was $1776 billion,  groups around the world are speaking up to urge governments to redirect military spending to projects and initiatives to address the real threats to our security.
In Euston, London Pax Christi and the Quakers ran a ballot where  people were asked to vote for their priorities for spending to make the world a safer place.  After spending on health and education the second priority was in tackling climate change, with 81 votes, then international cooperation and development at 61 with military spending coming in last at 14.
Later in the day another stall was set-up at the Vote out Trident event  at the  the Ministry of Defence, London where Bruce Kent, Jeremy Corbyn and Victoria Brittain were among the speakers.
See Pax Christi's photos.