NEW 2018 GCOMS handbook – useful statistics, graphs etc that could be adapted for stalls and exhibitions
Promotion of GCOMS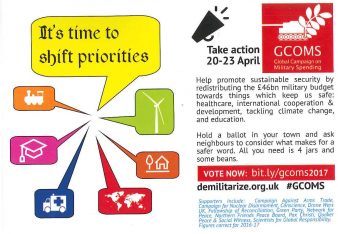 A new postcard for GDAMS 2017.  Use these to help spread the word or on stalls or at events between 20 – 23 April
You can order copies from Pax Christi :
orders@paxchristi.org.uk
Could be copied as an A5 leaflet  too!  
Human Security Workshop for school/young people.  Produced by Pax Christi
Arms to Renewables: what is the £37,000,000,000 currently spent on the military could be shifted to investment in renewable energy?  CAAT tell us how
Resources for Schools
Military Spending workshop  with support resources for workshop here (lesson 4).  Aimed at young people but could be used with all ages. Produced by Pax Christi
Archive of existing resources
General Election Briefing 2015: with sections on military spending, Trident and the arms trade. Produced by Network of Christian Peace Organisations – many are GDAMS members
Three simple designs to put our message across – order copies of these postcards to distribute!
Pax Christi's newsletter with lots of info, resources and ideas on the day of action
CAAT's postcard comparing arms trade subsidy to NHS cuts
The First World War in Numbers – giving some of the economic/human 'costs' of that war