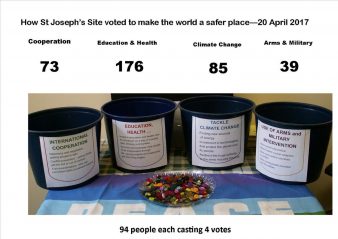 At St Joseph's School and site of Pax Christi office in Hendon London, staff and pupils of the school came along to cast their vote for a safer world.
As well as showing curiosity about what was going on, 94 people took part in the vote and you can see the results in the photograph.
Hereford Peace Group report.
One of our members had made some excellent placards, saying that £2,500,000,000 is spent globally every minute on the military, and they stood out across the big pedestrian area, so that a large number of people could not help but get that message.
We had some long conversations, including one with a young man who was in the navy.  48 votes were cast.
The votes were:
Education and Health                                                       72            37%
Climate Change                                                                  78            41%
International Cooperation and Development             40             21%
Military                                                                                  2             1%